Last Sunday, people around the globe spoke out against Digital
Restrictions Management
(DRM)
through many channels at once. The International Day Against
DRM was a
confluence of activism to protect our rights and freedoms from the
surveillance, unaccountable control, and security threat effects of
DRM.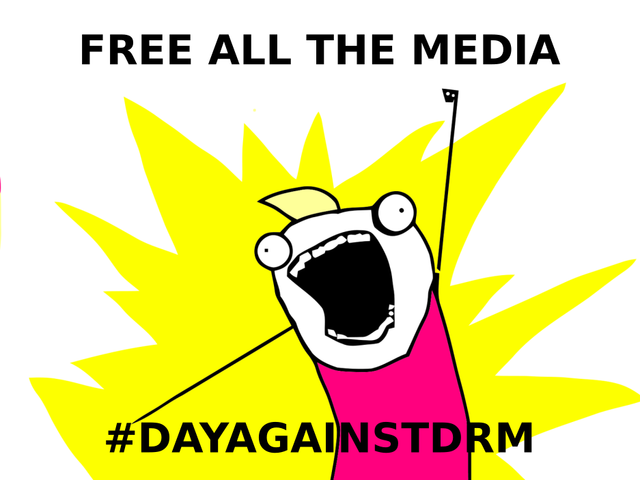 If you haven't already, please sign the
petition,
launched on Sunday, calling on Netflix to release its original
productions from DRM. Netflix accounts for more than half of peak
traffic in some countries -- we have to do this if we are going to
move beyond DRM as a society.
For the Day, researchers at the University of Glasgow revealed new
findings
about the economic harm of DRM. The popular repair tutorial Web site
iFixit asked its users to take a stand
against the DRM that
companies use to willfully prevent repair, while Italian organizers
held a teach-in and repeated what's now become a tradition of 8-bit
music parties.
A supporter wrote a rhyming
poem lamenting
that they could not share DRM-encumbered books. The founder of the
Pirate Party pointed out the
absurdity
in letting companies effectively write copyright law into DRM code,
and we published a post with media rights group Free Press describing
DRM's threat to freedom of
expression.
Once again, we set a record for the number of civil society
organizations and DRM-free book businesses participating, as far apart
as Germany and Bangladesh, broadcasting the message of the Day Against
DRM to tech policy, literary, free culture, and hacker communities.
The businesses offered discounts on
ebooks, some
of which are still ongoing. See the full list of organizations below.
The Day shows our efforts to raise public awareness about DRM are
working. But our work is far from over. We need to keep sharing
educational
resources
about the problem of DRM, taking
action, and supporting
DRM-free media. If you can
spare $10 or
$15 to
help us hire more staff for our tiny Defective by Design team, we'd
love that too.
Stay in touch
We'll be announcing the planning of the next International Day Against
DRM soon. To be notified when we set the date, and to make sure you
hear about International Day Against DRM events in your area, be sure
to sign up for the announcement mailing
list.
Defective by Design organizers and community members are also in our
freenode IRC channel, #dbd, year-round. Come
and chat with us!
Interested in organizing an event or media sale next year?
Please join the DRM Elimination Crew discussion
list
to stay in the loop as we ramp up to the next International Day
Against DRM. We'll keep organizing them until we put ourselves out of
business by eliminating DRM once and for all!
More info about the Day
Full list of organizations participating:

For a complete list of events which took place on and immediately
before the Day, see the LibrePlanet
wiki.

Until the next International Day Against DRM!

Image by Allie Brosh and is from Hyperbole and a Half. It is being used under Fair Use Laws.





Artículo de www.profesionalespcm.org insertado por: El administrador web - Fecha: 18/07/2017 - Modificar

Comparte el artículo en las REDES SOCIALES:
Delicious |
Meneame |
Facebook |
Twitter |
Technorati |
Barrapunto
Próximamente disponible también para * Digg * Google Bookmarks* Wikio * Bitacoras.com * Reddit * * RSS * Technorati * Tuenti
Accedido o leido aproximadamente 408 veces desde 18/07/2017
---
---
Sitio Web del Núcleo de Profesionales y Técnicos del Partido Comunista de Madrid PCM/PCE- http://www.profesionalespcm.org
Actualizado a 22/01/19
Los comentarios y colaboraciones son bienvenidos (comunistas_ARROBA_profesionalespcm_PUNTO_org):

Envíanos tu colaboración, o comentarios vía formulario.
¡¡AFÍLIATE EL PARTIDO COMUNISTA DE MADRID - PCE!
BÚSQUEDAS en este sitio web
Agregador RSS de noticias y contenidos - Aquí OTRA VERSIÓN DEL AGREGADOR RSS XML
IMPRIMIR
ESTA PAGINA (sólo si es imprescindible)
---
Secciones:

[11-M Terror y Manipulación] [15M, Unid@s Podemos, mareas, unidad popular, PAH] [Acta Moderna] [África] [Anarquismo] [Antiglobalización] [Antivirus, Seguridad Informática] [Archivo Sonoro, música y vídeo] [Argentina] [Bibliografía/Citas] [Brasil] [CC.OO.] [CGT] [Chile] [China, R.P.] [Ciencia] [Cine] [Colombia] [Congresos] [Contactos] [Convenios Colectivos] [Convocatorias] [Convocatorias defensa FERROCARRIL] [Correo recibido] [CORRUPCIÓN, puertas giratorias,impuestos, transparencia] [Cuba Socialista] [Documentos militante IU/ PCE] [Documentos, opinión, debate] [Ecologismo, Movilidad y Soberanía Alimentaria] [Economía] [El Problema Español] [Empleo (ofertas)] [Enlaces] [Esperanto] [Estados Unidos de América] [Europa] [FIRMAS DE APOYO A MANIFIESTOS] [Formación / Educación] [Foro/Lista de Correo] [Fotografías] [Huelga General] [Humor] [Infancia / Juventud] [Legislación] [Literatura y otras Artes] [Marxismo] [Memoria Histórica] [México] [Movimiento Obrero/Mundo del Trabajo] [Mujer / Feminismo] [Mundo Insurgente] [No Fumar /Derecho Fumadores Pasivos] [Organigrama] [Palestina] [Plan de Trabajo] [Prensa / Medios comunicación] [Profesionales y Comunistas] [República Española, La Tercera y Socialista] [Resoluciones] [Rusia, URSS, Centenario Revolución Soviética] [Sáhara Occidental] [Salud] [Sexualidad y mundo gay] [SIDA] [Software y Conocimiento Libre] [Venezuela Bolivariana] [Yugoslavia y la autogestión socialista]
Volver a la página principal de www.profesionalespcm.org



Código QR para dispositivos móviles:

Novedades
¡
PINCHA AQUÍ PARA LISTADO COMPLETO Y CRONOLÓGICO DE LAS NOVEDADES
PCE - IU - Construyendo Unidad Popular:


Recomendado reproducir material citando su procedencia.
Esta publicación es copyleft. Puede ser copiada sin ninguna restricción siempre que se mantenga esta nota. Apostamos por una Internet para todos y por el Software Libre EL NÚCLEO DE PROFESIONALES Y TÉCNICOS DEL PCM SE IDENTIFICA Y HACE RESPONSABLE EXCLUSIVAMENTE DE LOS TEXTOS INCLUIDOS EN ESTE SITIO WEB, QUE FIRME COMO RESOLUCIONES O COMUNICADOS DE LA MISMA. Todos los datos públicos de este sitio web están tomados de la Red o enviados por sus creadores, su único fin es divulgar la noticia, nunca apropiarse de textos y fotos, Siempre publicamos la fuente cuando es conocida.

---
Blog de debate NEURONASROJAS.profesionalespcm.org
---
Muro en Facebook NEURONASROJAS de profesionalespcm.org

---
Canal en YouTube de profesionalespcm.org
---
Sitio desnuclearizado, campaña de Ecologistas en Acción
---

NO PAGUES LA CRISIS
---
Declaración del PCE sobre ataque a Siria -
NO A LA GUERRA
La agresión militar lanzada contra Siria por EE.UU., Gran Bretaña y Francia abre un escenario de extrema gravedad ante el que el mundo debe responder