FSF Europe Launches "Free Your Android"


Free your Android device: learn how to regain control of your data, with a free operating system and free apps!

Last Fall, Richard Stallman published
an article
in which he states that, "for a computer user that values freedom",
the most important question to be asking yourself about the Android
operating system is: "[t]o what extent does Android respect the
freedom of its users?"
If you are interested in finding the answer to this question, then the
Free Software Foundation Europe has just the resource for you! Their
new campaign,
Free Your Android,
delves into issues of freedom, privacy, and control as they relate to
the various services, markets, and apps for Android. While there is only one distribution of Android that does not include
some nonfree software —

Replicant — the site does provide helpful
information, as well as cautionary warnings on other, nonfree
distributions of Android. The purpose of the site is to
eliminate proprietary software for Android and replace it with free
software — or, as they write: "Liberate your Android device: learn
how to regain control of your data, with a free operating system and
free apps!"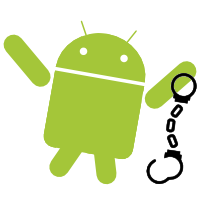 Here at the FSF, many of us are fortunate enough to own phones that
are able to run Replicant. But, we have put Replicant on our list of
High Priority Reverse Engineering Projects
to encourage people to work on Replicant so it will be able to support
more devices than just the HTC Dream and the Nexus One phones. Please
support FSFE's campaign, and also stay tuned for more news very soon
about the FSF and GNU working in the area of mobile device freedom!
Artículo de www.profesionalespcm.org insertado por: El administrador web - Fecha: 01/03/2012 - Modificar
Comparte el artículo en las
REDES SOCIALES
:
Delicious
|
Meneame
|
Facebook
|
Twitter
|
Technorati
|
Barrapunto
Próximamente disponible también para * Digg * Google Bookmarks* Wikio * Bitacoras.com * Reddit * * RSS * Technorati * Tuenti
Accedido o leido aproximadamente 933 veces desde 01/03/2012
---
---
Sitio Web del Núcleo de Profesionales y Técnicos del Partido Comunista de Madrid PCM/PCE- http://www.profesionalespcm.org
Actualizado a 14/10/19
Los comentarios y colaboraciones son bienvenidos (comunistas_ARROBA_profesionalespcm_PUNTO_org):

Envíanos tu colaboración, o comentarios vía formulario.
¡¡AFÍLIATE EL PARTIDO COMUNISTA DE MADRID - PCE!
BÚSQUEDAS en este sitio web
Agregador RSS de noticias y contenidos - Aquí OTRA VERSIÓN DEL AGREGADOR RSS XML
IMPRIMIR
ESTA PAGINA (sólo si es imprescindible)
---
Secciones:

[11-M Terror y Manipulación] [15M, Unid@s Podemos, mareas, unidad popular, PAH] [Acta Moderna] [África] [Anarquismo] [Antiglobalización] [Antivirus, Seguridad Informática] [Archivo Sonoro, música y vídeo] [Argentina] [Bibliografía/Citas] [Brasil] [CC.OO.] [CGT] [Chile] [China, R.P.] [Ciencia] [Cine] [Colombia] [Congresos] [Contactos] [Convenios Colectivos] [Convocatorias] [Convocatorias defensa FERROCARRIL] [Correo recibido] [CORRUPCIÓN, puertas giratorias,impuestos, transparencia] [Cuba Socialista] [Documentos militante IU/ PCE] [Documentos, opinión, debate] [Ecologismo, Movilidad y Soberanía Alimentaria] [Economía] [El Problema Español] [Empleo (ofertas)] [Enlaces] [Esperanto] [Estados Unidos de América] [Europa] [FIRMAS DE APOYO A MANIFIESTOS] [Formación / Educación] [Foro/Lista de Correo] [Fotografías] [Huelga General] [Humor] [Infancia / Juventud] [Legislación] [Literatura y otras Artes] [Marxismo] [Memoria Histórica] [México] [Movimiento Obrero/Mundo del Trabajo] [Mujer / Feminismo] [Mundo Insurgente] [No Fumar /Derecho Fumadores Pasivos] [Organigrama] [Palestina] [Plan de Trabajo] [Prensa / Medios comunicación] [Profesionales y Comunistas] [República Española, La Tercera y Socialista] [Resoluciones] [Rusia, URSS, Centenario Revolución Soviética] [Sáhara Occidental] [Salud] [Sexualidad y mundo gay] [SIDA] [Software y Conocimiento Libre] [Venezuela Bolivariana] [Yugoslavia y la autogestión socialista]
Volver a la página principal de www.profesionalespcm.org



Código QR para dispositivos móviles:

Novedades
¡
PINCHA AQUÍ PARA LISTADO COMPLETO Y CRONOLÓGICO DE LAS NOVEDADES
PCE - IU - Construyendo Unidad Popular:


Recomendado reproducir material citando su procedencia.
Esta publicación es copyleft. Puede ser copiada sin ninguna restricción siempre que se mantenga esta nota. Apostamos por una Internet para todos y por el Software Libre EL NÚCLEO DE PROFESIONALES Y TÉCNICOS DEL PCM SE IDENTIFICA Y HACE RESPONSABLE EXCLUSIVAMENTE DE LOS TEXTOS INCLUIDOS EN ESTE SITIO WEB, QUE FIRME COMO RESOLUCIONES O COMUNICADOS DE LA MISMA. Todos los datos públicos de este sitio web están tomados de la Red o enviados por sus creadores, su único fin es divulgar la noticia, nunca apropiarse de textos y fotos, Siempre publicamos la fuente cuando es conocida.

---
Blog de debate NEURONASROJAS.profesionalespcm.org
---
Muro en Facebook NEURONASROJAS de profesionalespcm.org

---
Canal en YouTube de profesionalespcm.org
---
Sitio desnuclearizado, campaña de Ecologistas en Acción
---

NO PAGUES LA CRISIS
---
Declaración del PCE sobre ataque a Siria -
NO A LA GUERRA
La agresión militar lanzada contra Siria por EE.UU., Gran Bretaña y Francia abre un escenario de extrema gravedad ante el que el mundo debe responder